The 'Mermaid' serie
I started these artworks in 2021 as a kind of altar to woman. Women's value is still measured by how you look. You are measured. The fact that you are being measured at all is to see as a compliment (Say what!?) When is something a flirt, when sexist. There's a thin line. And there's duality. A mermaid is a-sexual and yet seen as one of the most seductive mythical female figures on earth. On my mermaids I embroidered words like 'perfect', 'sweet', 'no'. The spangles give the fabric scales: the look of a chain mail but also screams 'nightclub'. All double messages. They are a little defect.
Mermaid #1 - 2021
Embroidery art/assemblage by Ingeborg Vriends
Size: 65 x 70 x 7 cm.  € 2800
This small monument to woman represents the duality between wanting te be beautiful/seductictive and being judged for that. 
The vulnerability lies in the technique and choice of materials (textiles) that are seen as feminine. The primal power of the woman (to protect, to give birth, to worry) is in the scales that form a kind of chain mail/armor.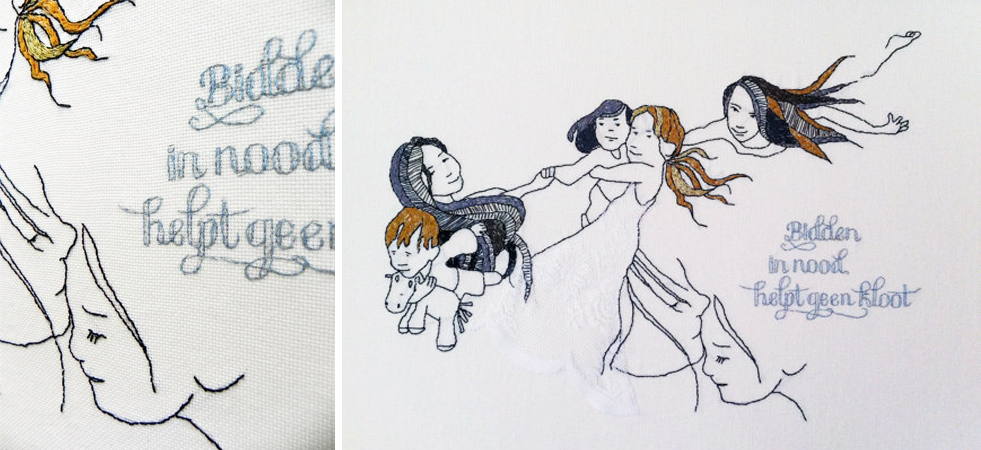 'Bidden in nood'
Voor de tentoonstelling 'Merklappen' in De Kaarsenfabriek werden kunstenaars gekoppeld aan ervaren borduursters. Eigentijdse ontwerpers gaven nieuwe waarden aan deze oude traditie en verbinding van jonge makers met oudere.
Merklappen werden ooit gemaakt om meisjes te laten oefenen met het borduren van letters voor hun uitzet. Soms versierd met een moralistische boodschap of spreuk.
De tekst 'Bidden in nood helpt geen kloot' is een uitspraak van mijn oma. Zij was heel gelovig. Je ziet in de prent mijn kinderen wegzweven, zoals Wendy met haar broertjes in de film Peter Pan. Want als je gelooft kun je alles, zelfs vliegen. Twee soorten van geloven in één werk. 'Geloven' wordt hier doorgegeven van moeder op dochter op dochter en geeft die oude oude traditie nieuwe inhoud. Zoals de ambacht van het borduren ook doorgegeven wordt.
Dit werk is geborduurd door Maria uit Beek en Donk. In haar kamer hing ook prachtig schilderwerk van haar hand. Ze was heel trots op de expositie. Dankzij dit project werd haar vakkunst uit de anonimiteit gehaald en aan een  groter publiek getoond.
Embroidered patch
For this project artists were paired with experienced embroiderers. Contemporary designers gave new values ​​to this old tradition and connection of young makers with older ones. Embroidered patches were once made to let girls practice embroidering letters for their trousseau. Sometimes decorated with a moralistic message or saying.
The text 'Praying in distress doesn't help' is a quote from my grandmother. She was very religious. In the print you see my children floating away, like Wendy with her brothers in the film Peter Pan. Because when you believe you can do anything, even fly. Two kinds of belief in one work. 'Believe' here is passed on from mother to daughter to daughter and gives new meaning to that old old tradition. As the craft of embroidery is also passed on.
This work is embroidered by Maria from Beek en Donk. Her room also had beautiful paintings by her hand. She was very proud of the exhibition. Thanks to this project, her craft was taken out of anonymity and shown to a wider audience.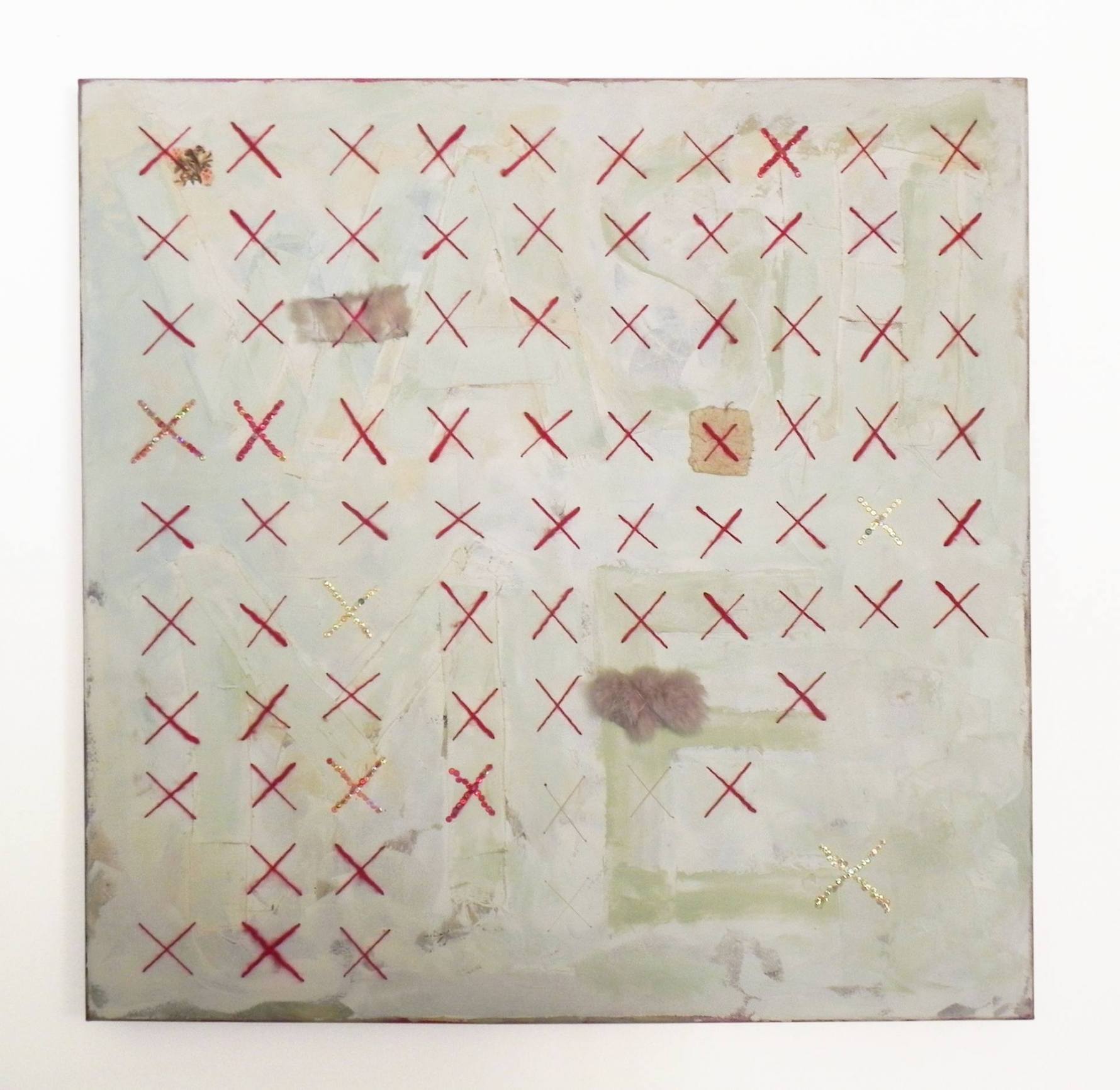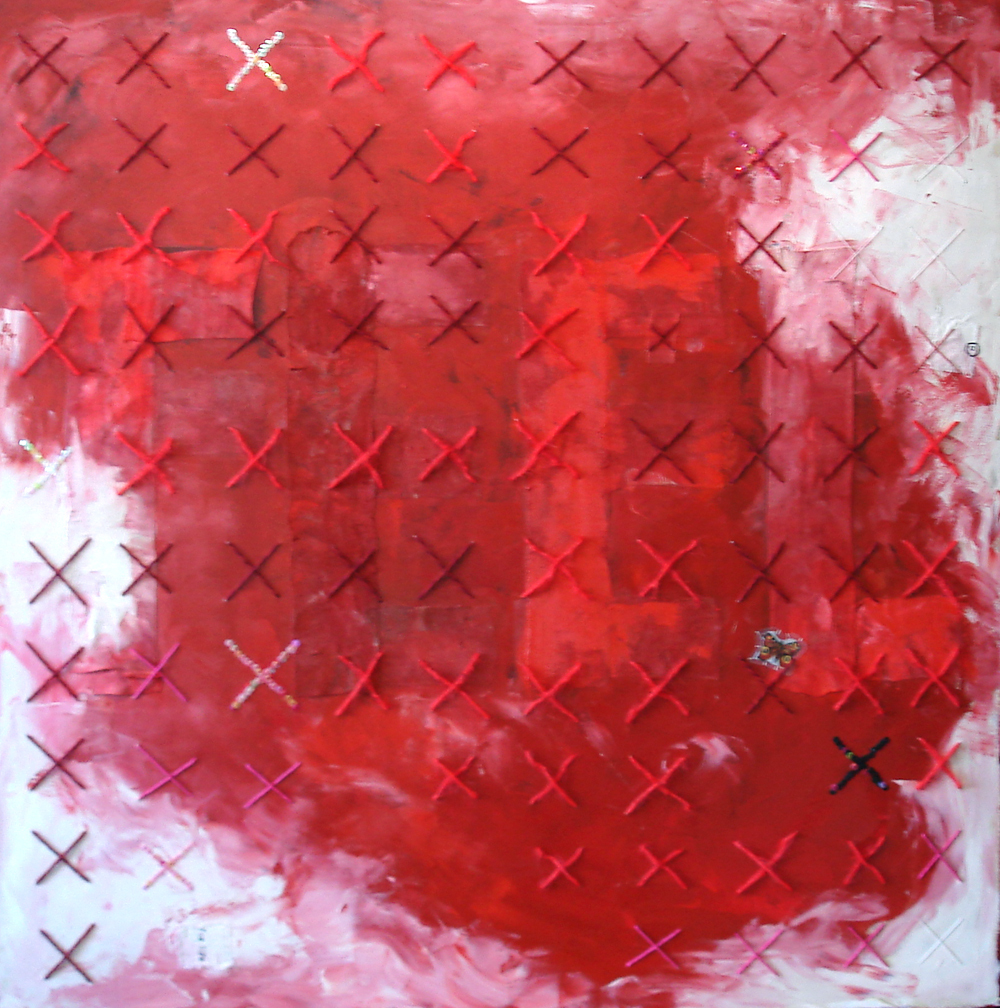 Mermaid #2 - 2022
Embroidery art/assemblage by Ingeborg Vriends
Size: 65 x 75 x 10 cm.  € 2900
Nothing exist without water. All life is originated from water. But our life also originates in water. Without woman there's no life. Mami-Wata (Mother Water) is an ancient African water goddess. Water spirits, mermaids and gods all over the world have their origin in Mami Wata. In the stories she takes travelers into her world to give them spiritual insight. Then she puts them back on the bank. She is a real sea bitch, mother and femme fatale. The double tail symbolizes that contradiction in every woman.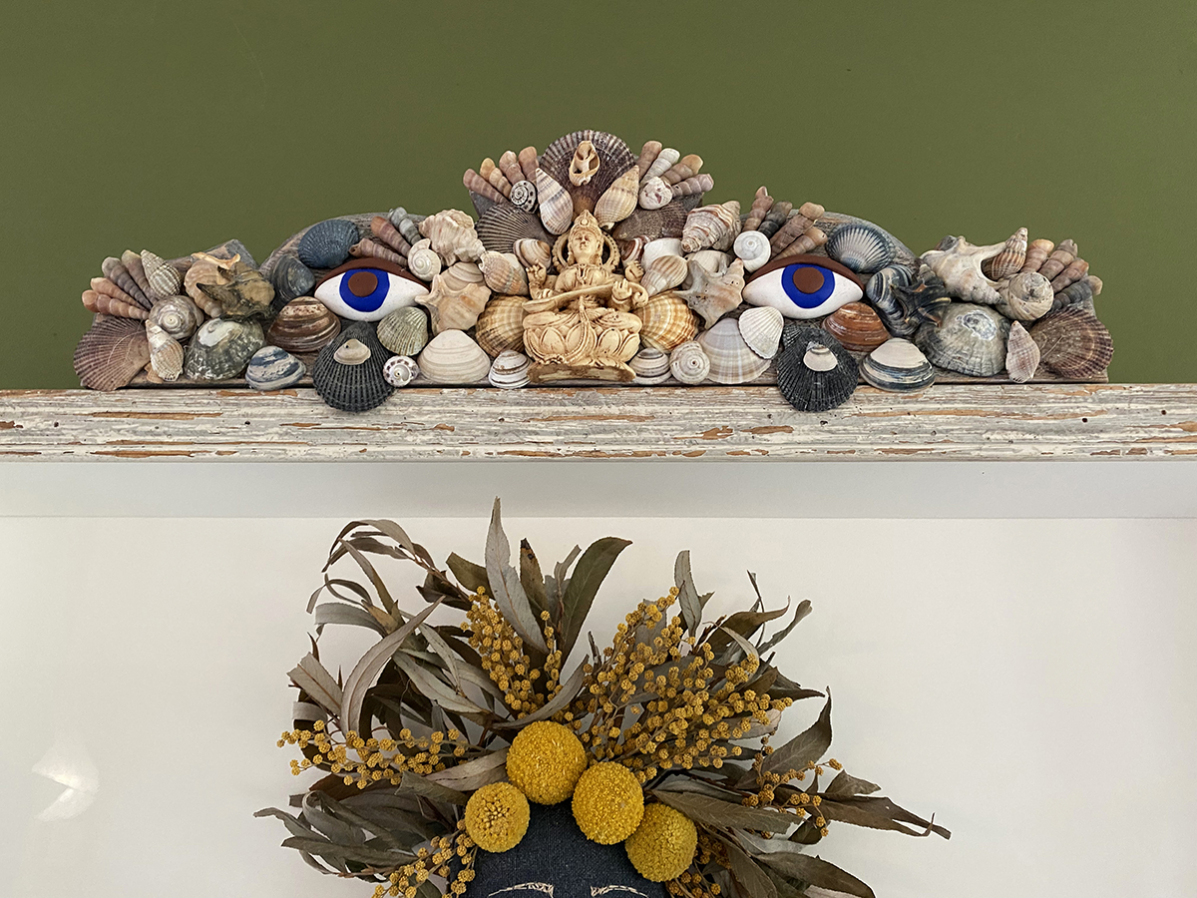 Risoprint Mami-Wata - 2022
Riso print by Ingeborg Vriends
Size: 29,7 x 21 cm.  € 25
3 color riso-print in limited edition of 40 pieces, made at Grafisch Atelier Den Bosch, signed and for sale in webshop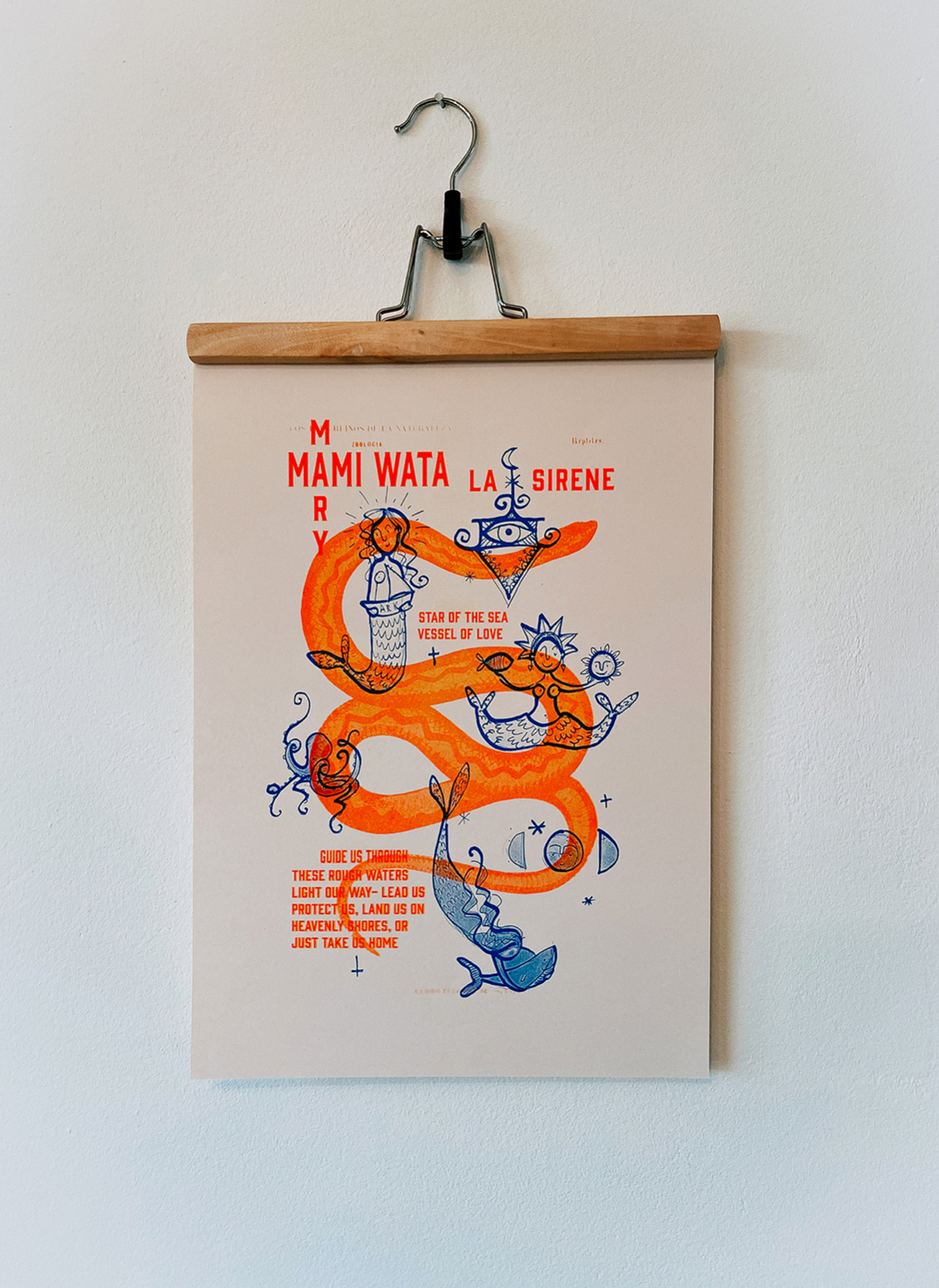 Brieven naar huis - 2022
Videoproject - Ingeborg Vriends
Al enkele maanden stuur ik post naar mijn ouderlijke huis: 'Hoi huis! Hoe gaat het met je? Met mij gaat alles goed. Liefs Ingeborg ' Het huis staat leeg en dat vind ik een verdrietig idee. Mijn ouders hadden een horecabedrijf dus het is altijd vol leven en gezelligheid geweest. Eigenlijk stuur ik steeds iets van thuis naar thuis. Tekeningen, beetjes liefde, kunstwerkjes, altijd originelen. En dat vind ik een mooie gedachte. De bouwdoos links op de foto is een prototype voor het huis als houten blokken speelset. Het luciferdoosje is merchandise avant la lettre van het restaurant. Rechts heb ik het huis gebreid met garen dat nog van mijn moeder is geweest.

Ik heb nog geen plan of vastomlijnd idee waarheen dit moet gaan  maar alles wat ik doe voor dit project: het maken van de post, naar de brievenbus brengen, leg ik vast op film. Inclusief de 'Post retour' in onze brievenbus, wat sinds een paar weken niet meer gebeurd … 
For several months I have been sending mail to my parental home: 'Hi home! How are you? I'm fine. Love Ingeborg "
The house is empty and that's a sad idea. My parents had a restaurant so it has always been full of life and fun.  I send something from home to home: drawings, bits of love, works of art, always originals. On the left photo you see a prototype for the house as a wooden block play set. The matchbox is merchandise avant la lettre from the restaurant. On the right I knitted the house with yarn that belonged to my mother.
I don't have a plan or a definite idea where this should go, but everything I do for this project: making the mail, taking it to the letterbox, I capture on film. Including the 'Return to sender' on our doorstep, which hasn't happened for a few weeks now ...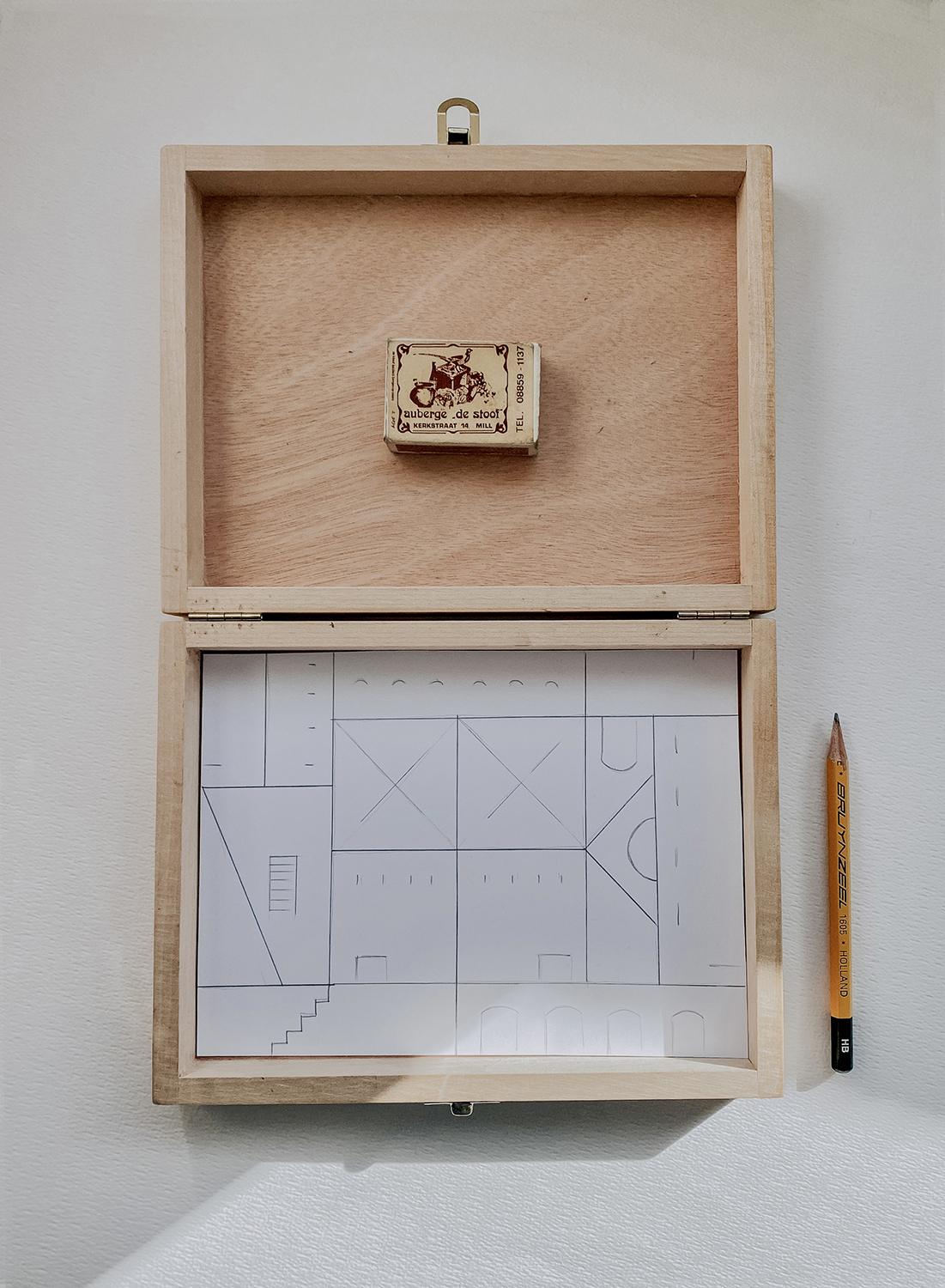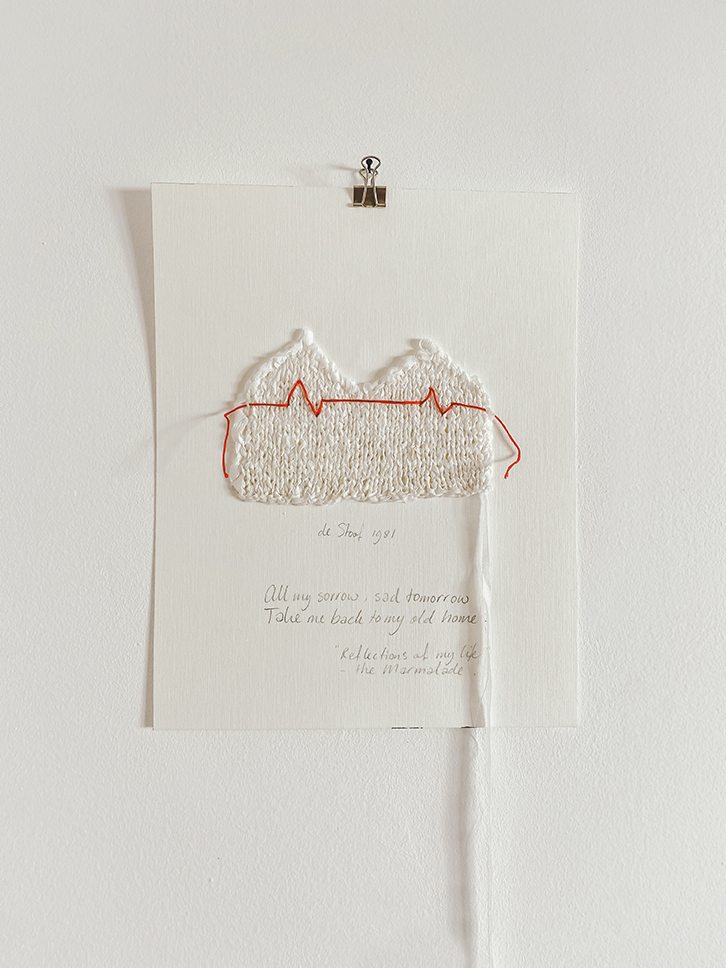 #81 'Wash me' (Sold) en #82 'Feel me'
Painting, Oil on Canvas
Ingeborg Vriends - van der Steijn
W 100 x H 100 x D 4 cm. € 1200
Mermaid #4 - 2022
Embroidery art/assemblage by Ingeborg Vriends
Size: 60 x 80 cm. € 1700
All that glitter and gold. How can you keep hearing yourself in a world full of material things and status?
"What do you want?" is her question for you. These mermaids are full of ancient symbolism and an expedition into womanhood, motherhood and meaning. Girls from my generation had to be sweet, beautiful and smart. Doing better than our parents. Everything was possible: a long and happy life for those who worked hard enough. But maybe life isn't makeable at all and the world not at everyone's feet. Maybe that's better too. Can we stop with personal goals and all that hassle. Create more space in people's hearts to worry about someone else and finally see the other.
Desertwolf #1 - 2022
Size 60 x 40 cm.  (Sold)
Embroidery art/assemblage by Ingeborg Vriends
This magical creature is a small desert goddess. "It takes dark to see the light," is what she says.
In our family, bags with sacred ointment from Rome go around that help when the first teeth come through. My aunts got them from the Birgittessen Sisters. Small embroidered pockets that you pin to the inside of a baby romper.
If you no longer know who you are or what you are for, then you must (figuratively) return to the desert, a place where there are no distractions. Nothing to fill your pain or emptiness. An old soul is waiting there for you to plant seeds in your heart. To plant new life into you. I put those seeds in the little bags. Like the Birgittessen Sisters.